Both the crushed berries and the juice have a long history of medicinal use. Native American Indians have traditionally eaten cranberries as a food, as well as consumed them to support bladder and kidney health.
Cranberry fruit is commonly used to help with symptoms of cystitis (a urinary tract infection), as well as a source of antioxidants that contributes to the maintenance of good health.
Cranberries possess anti-adhesion properties which help reduce the adhesion of bacteria to the urinary tract. This helps to reduce the adherence of bacteria to the urinary tract.
Swisse uses Pacran®, an ingredient that is exclusive to Swisse in Australia. Made from the whole cranberry fruit, Pacran® is a proprietary cranberry ingredient.
Cranberries contain several key compounds, which appear to be effective in supporting urinary tract health. In addition to its high PAC (proanthocyanidins) content, Pacran® contains other important compounds such as polyphenols and fibre.
Swisse sources the majority of its cranberries from the Cape Cod region of Massachusetts, where they thrive and have had the same families oversee many farms for over one hundred years. Other cranberries are grown in Canada. This partnership yields superior results and the best quality in the world.
In order for the crop to bear fruit, exacting requirements must be met. The summers must be hot and the winters very cold. The fields in which the vines are grown must have highly acidic soil. The farms themselves must be set up in such a way that the fields – known as cranberry bogs – can be flooded and drained efficiently. In spring, the bogs are drained, and blossoms appear for bees to pollinate.
By mid-summer, the petals fall from the flowers, leaving tiny green nodes that eventually turn into cranberries. Autumn is harvest season, and the bogs are flooded again so the fruit – which floats – can be removed from the vines and scooped up. In winter, the bogs remain flooded with water, which freezes and insulates the vines from frost, providing the crop with the coolness it craves plus a degree of protection.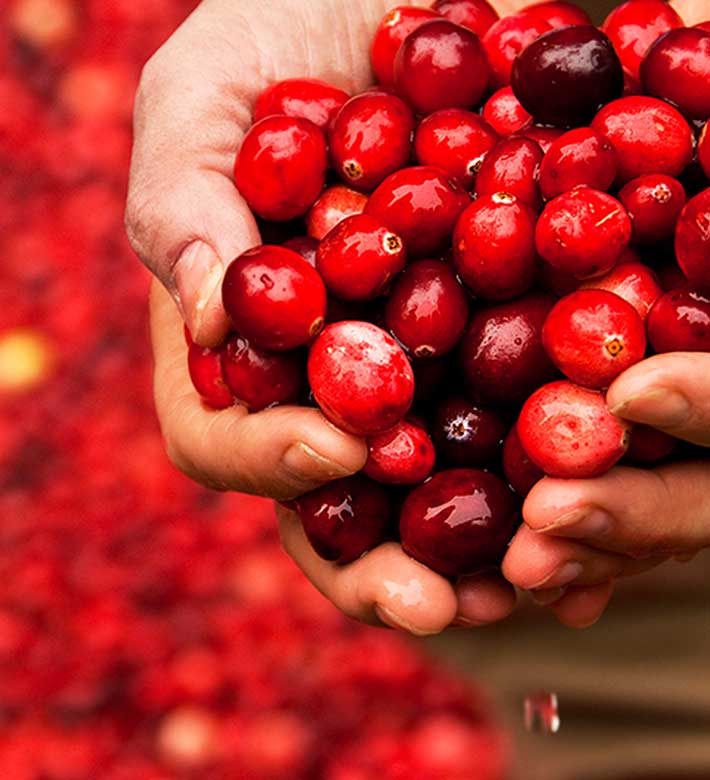 KEY BENEFITS
Helps with symptomatic relief of medically diagnosed cystitis
Cranberries are full of bioactive compounds, such as proanthocyanidins (PAC), which can help with symptomatic relief from discomfort associated with medically diagnosed cystitis such as itching, urinary odour and frequent, burning urination.
Our Cranberry capsules contains Pacran
Pacran® is a proprietary cranberry ingredient. The beauty of Pacran® is that it uses the whole of the fruit (rather than just the juice), so no cranberry goodness is wasted.
A potent antioxidant
Cranberries have a high flavanol content. They consistently rank highly among common fruits and vegetables for their antioxidant activity. Flavanols are also known to be potent antioxidants.
The information provided in reference to this ingredient is general in nature and provided as information only. Any product specific therapeutic claims for this ingredient are linked to specific dosage requirements based on evidence of traditional or scientific nature.
This medicine may not be right for you. Read the warnings before purchase, which can be found on the label. If symptoms worsen or change unexpectedly, talk to your healthcare professional. Follow the directions for use. Supplements can only be of assistance if dietary intake is inadequate.